Posted by:

LMTV Supporter
Post Date:

17/03/2020
---
Taking care of disabled children and facilitating a non-formal language class for students
LMTV Supporter
Interview of Cheima
Six months ago, Cheima arrived in Vietnam. Related to her studies in specialized education, she chose to participate in a SJ Vietnam's LMTV program by taking care of disabled children with mental disabilities. Her project took place in Phuc Tue center, in Hanoï.
The center hosts about 70 children. Using specific education methods which are suited for each individual, the center tries to help the children as much as they can. The most important is their development.
We were doing some activities, little games. Things like that to make them more independent. About daily life like how to brush your teeth, how to be clean. That is what the project was all about.

Why did you choose this project?
I know children with disabilities well, so I wanted to see what was happening elsewhere, what was the approach to disability in other countries
As it is a long-term project, Cheima get to decide how long she wants to participate in the project. She stayed four months.
At first it was difficult in the center, the teachers seemed a little reluctant. I think it is because volunteers often come and go really quick. Time passed by and they saw I was staying and really motivated, and the atmosphere became more friendly. Regarding people staying in the center, they were happy to see foreigners and the contact was great.
What were you doing there?
At Phuc Tue I was working in the morning. I got there at 9:00 am and the kids were writing lines. I was in charge of two children in particular who were difficult with the team: Nam and Viet. Especially Nam, because he doesn't speak too much, so it was easier for me to take care of him.

I would go see them and help them do their lines, then I would take them to another room. There we were doing little psychomotor exercises so that they could do their movements better. Others to arouse their curiosity. Sometimes I worked with other children, I was not only with them two. At the end I was trying to set up bigger projects, like emotions for example. After the lines of writing I was going to explain the emotions to them, we stayed on it for a long time, we made some music and games. "
Was the project as you imagined it?
Actually, I had no plan for the project, so let's say that I didn't have too many expectations. But compared to France, it was not the same. It was a little poorer, there was less money. I thought so, but it was hard to see it like that with my own eyes. It was just different.
The second part of Cheima's project was the English lessons. Non-formal English lessons with university students.
In the afternoon I was preparing my English classes. Twice a week I had a class with students, and two other days I was seeing children to teach them basic English. So in the afternoon I would come back at home to prepare these lessons.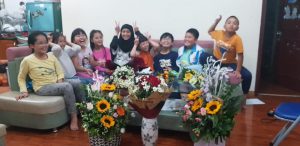 The courses are mainly moments of speaking for the children end debate between the students. Sometimes she began with some vocabulary on the subject, then she asked questions to her students so that they can give their opinion. The important thing in these classes is to invite people to speak. They come there to speak English, to practice speaking and to improve their skills. Sometimes she went to universities, other times students came to the apartment where she stayed.
When a volunteer participates in a project in Hanoi, he / she stays in an apartment serving as the office for coordinators of SJ Vietnam. Volunteers therefore find themselves living with each other, and their number can easily vary from one to twenty depending on the projects in progress.
How was life at SJ Vietnam?
At first, I was on my own, and in the last month many volunteers arrived. Depending on the short-term projects, there are volunteers who come and go in the apartment. Life was very good, I adapted well. Yet, since it serves as an office at the same time, it is a little complicated to make a living in the apartment. And not having your home and your private life is always a bit complicated.

With the other volunteers I got along very well, I made a lot of friends, I kept in touch with them. Just talking about it reminds me of a lot of memories, only good times. Sometimes we played games, did movie nights, we did a lot of stuff, it was nice. Movie night with the girls who were there, sometimes we went out. As soon as someone wanted to go out somewhere, for example at the museum, we asked to everyone.

I loved life in Vietnam, it was a very simple life. Every day there was something different, every day new meetings, every day I learned something new. It was really beautiful, a very nice experience.It was a very enriching experience which made me grow and which made me discover a lot of things. It changed my point of view about the world and about myself too.

I would gladly do it again.

Interview and article by Antoine (LMTV from Belgium)