Posted by:

LMTV Supporter
Post Date:

02/02/2020
---
Let's experience Tet (Traditional New Year)! -SJV1916-
LMTV Supporter
| | |
| --- | --- |
| PROGRAM | SJV1916 Traditional New Year for poor children and families |
| WHEN | 2020/01/13-20 |
| FROM | South Korea(3), China(2), Denmark(1), Switzerland(1), Vietnam(1)(local) |
| LOCATION | SJ Vietnam office, Fisher Village, Phuc Tue centre |
Background
Tet, Vietnamese Traditional New Year, is the most important celebration in Vietnamese culture. Many Vietnamese prepare for Tet by cooking special holiday foods and cleaning the house. If you want to know more about Tet, please visit this page!
This January, volunteers came all the way from South Korea, China, Denmark and Switzerland to SJ Vietnam to make and give Banh Chung (Chung cakes). They arrived at Noi Bai International Airport and got individually to our office by January 11st. Each of them had different feelings then, some were excited about experiencing Vietnamese culture and others were a little nervous.
Working!
After having orientation, they began to make Banh Chung, Vietnamese traditional rice cake for new year. They washed a lot of leaves carefully, cut them to proper size and shape for Banh Chung. Then, they put sticky rice and yellow beans into boxes they made with the leaves. In general, Vietnamese people put not only sticky rice and beans but also pork and some ingredients into Banh Chung.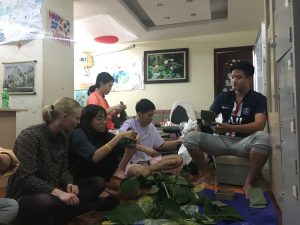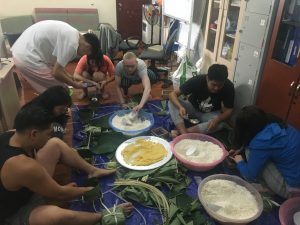 Last step was steaming. This step required patience because they needed to take care of the fire within 12 hours… Sometimes, they had to put more water inside so that the cakes were not overburned. However  Toan, a Swiss guy and Nam, workcamp coordinator did their best to take care of fire outside. During  the other volunteers practiced a dance for the performance at Phuc Tue center and they also cheered the two up by talking together or serving some foods or drinks. Moreover not only workcamp volunteers but also long-term volunteers sometimes participated in it and enjoyed exchanging cultures.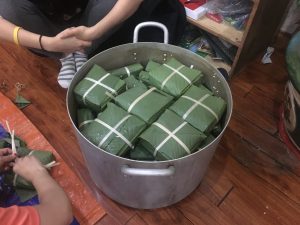 Finally, they managed to make as many as 150 of Banh Chung! They did really well. However their work hadn't been over yet. They still had a significant task, which was giving the cakes to local people.
Present!
They went to Phuc Tue centre, a school for disabled children, to celebrate traditional new year. They gave Banh Chung to the children, and presented their dance performance as well. How enjoyable it was! Then the children also gave dancing and singing presents. It was also very energetic!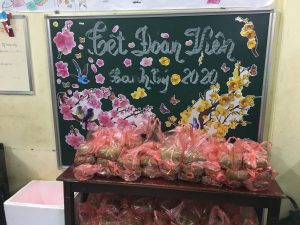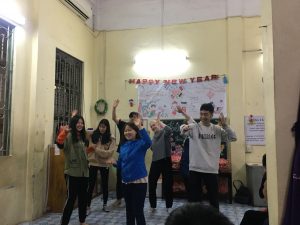 Three days later, they went to Fisher Village, where some disadvantaged Vietnamese people live. They gave Banh Chung to them and learned about the village in one of houses there. They asked some questions about lives, education or children there. Visiting there should definitely have given them more findings than just studying about this village at office.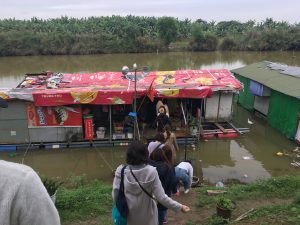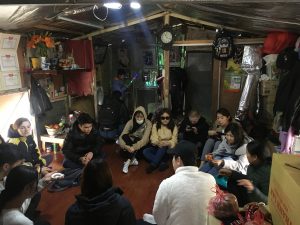 In this program, some member from Hanoi Volunteer Net, a Japanese volunteer community gave direct and financial supports to us. I'll introduce their interview on next post.
After work…
They enjoyed not only their work but also local life in Hanoi. After work they went to some local restaurants for enjoying local foods. They went to city center of Hanoi or a huge market for looking for souvenirs. Some of them also went to Ha Long Bay, one of the most beautiful and popular touristic spots in Vietnam, and enjoyed sightseeing on their day off.
Through this program, they could learn and brought back many things, such as necessity of support from the world to Vietnam or local life in a developing country. And they definitely gave hopes to people in Vietnam. Thanks, Sofie, Hyun, Juhee, Hong, Xuyang, Yiying, Toan and Chuyen!!!