Posted by:

Linh
Post Date:

30/12/2019
---
How do you feel through experiencing LOCAL life in Fisher Village? -ESA-4-
Linh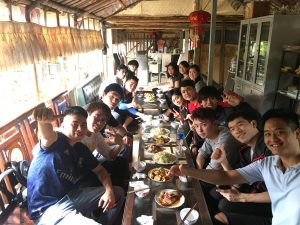 <Program Information>
There is a small village and a small garden on Song Hong River in Hanoi, under Long Bien Bridge. The name is Fisher Island/Village. It consists of some boats floating on the river. Some underprivileged people are living there. Many years before they came to Hanoi from other regions to find jobs, but couldn't and began to live there. They don't have any governmental support, so no education, no medical support, even no address. They make a little money with some part time jobs.
To improve this situation, 11 people came all the way from Japan and did volunteer work there with 3 local volunteers. They helped people there to make money with Eco Sponges, protect some crops from harmful insects, cleaned up a road for safety and even decorated their house for Christmas.
PROGRAM: Eco Sponge Action
VOLUNTEERS: 11 Japanese, 3 Vietnamese
PERIOD: Dec.21-28,2019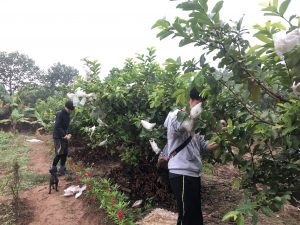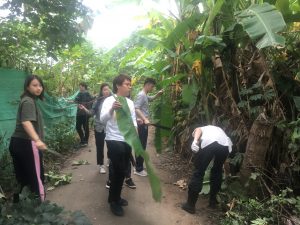 "Happiness for me is that my children enter a university, get a good job and have their good lives." A women in Fisher Village says.
This program is just for 1 week, but we have it 4 times a year. We are sure their support is essential for local people.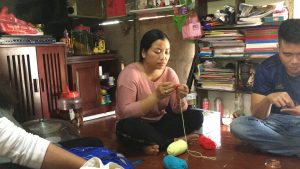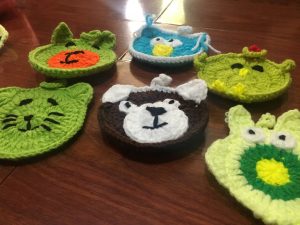 <Timetable>
9:30   Make covers for guava and put them to protect them from insects
12:00  Have lunch (local foods) in the house of the village mayor
13:30  Clean a road in the island for safe traffic
15:30  Finish
After  Go sightseeing / Have Christmas party
In addition, they gave wool to local people and brought some sponge made by them to Japan. Then they sell and send the income to local people.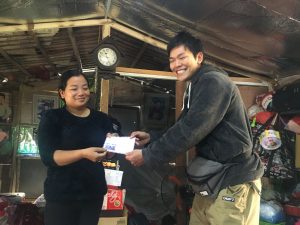 <Interview>
Kosei(18) Japanese volunteer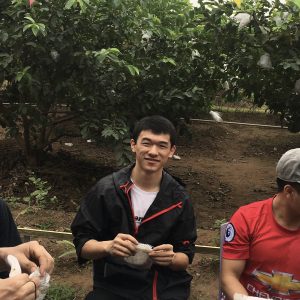 —What was your first impression to Vietnam before coming here?
I thought Vietnam was so called "developing country", so I was worried about different environment, such as foods, places for sleeping and so on. Thus I didn't have a sense of familiarity. This is my first time to go abroad, so I was very anxious of course, but having an international experience is more important for me.
—After coming here, have you changed your impression?
I'm so surprised because the city center of Hanoi is more developed than I have expected, such as a lot of buildings, stores and restaurants. However when I go to outskirt by bus, I see some villages which are not urbanized at all, the same as my expectation in Japan, and I feel inequality of wealth…
—What do you think about life in Fisher Village?
In this program, we brought some wools here from Japan and are going to sell sponges people in Fisher Village made from the wools in Japan. Then we send the income to local people. I think even though we tend to regard a couple of hundred yen (a couple of dollars) as a little money in Japan, the amount of money can really help life of local people. I have become a little ashamed of my waste, and I have a confidence to help the world at the same time.
China(16) Japanese volunteer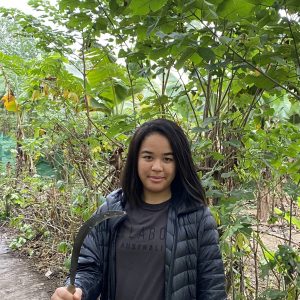 —Why do you come here and join this volunteer program?
I'm interested in international volunteering from the first and this is my third time to do volunteer in fact. Moreover I am fascinated with working in a blighted area on a river because an environment like this is completely different from my daily life. I want to get an international job, such as a member of JICA or an officer in a branch of a multinational company in the future.
—Have you changed your idea about this program after coming here?
The work here is less difficult than I have expected. I thought I did some works on floating houses every day, but we actually grow guavas in a botanical garden on the ground. However I also like farming, so I'm so excited by this program.
—Have you got anything through doing volunteer?
I can learn a lot of new things not only about volunteer but also culture in Vietnam and some attractions in Hanoi because coordinators in SJ Vietnam take us to various kinds of places after working. It's excellent for me.
— What do you think about life in Fisher Village?
Before listening to a story about Fisher Village, I thought about people there too pessimistically. However I realized they make efforts and enjoy their daily lives thanks of seeing with my own eyes. Now I really want to participate in another international volunteer during next vacation!
Shunsuke(21) Japanese volunteer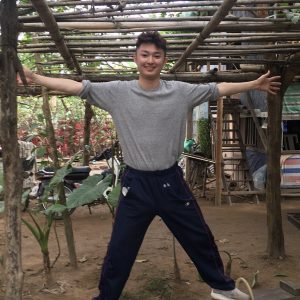 — Why do you come here and join this volunteer program?
One of my friends often do international volunteer and he strongly recommended me. As I heard more and more about it, I came to want to join a volunteer in another country, especially in developing country. Moreover I don't like refraining from doing anything before trying, that's why I could decided to come here relatively easily.
— Have you got anything through doing volunteer?
My precious experience here is Christmas party with local people!! After helping them to grow some fruits in a botanical garden, we were invited to Christmas party by them. I felt warm gratitude from them to us in this invitation. I have never experienced something like this before, so I was really happy and enjoyed it.
—What is your goal during your stay in Vietnam?
I want to see and think about everything in Vietnam from perspective of local people, not of foreign tourist, which I believe only volunteers can do. So during my stay in Vietnam I try to behave like local people, for example, I eat in a local restaurant or visit a place tourists don't know. This is my goal!
Tan(28) Vietnamese volunteer supporting Japanese volunteers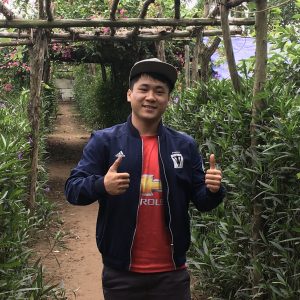 — Why do you come here and join this volunteer program?
First, I want to help disadvantaged people in Vietnam because I know there are a lot of poor people and they struggle in their daily life. Second I'd like to communicate with Japanese people and practice speaking Japanese because I'm going to go working to Japan next year.
Fortunately, I was born in a normal family and could get enough education, and I'm going to work in Japan. However I believe a person like me must help unprivileged people.
—Do you enjoy this program?
I really enjoy. I can get many experiences I didn't know. I'm sure my experiences here definitely contribute to my future. In addition, Japanese volunteers are so kind enough to teach some Japanese words to me and go to dinner together. When I go to Japan, I want to contact to them and play together!
(Interviewer,Writer: Takanori Kano -Volunteer from Japan)