Posted by:

LMTV Supporter
Post Date:

08/02/2020
---
Let's experience Tet (Traditional New Year)! Interview -SJV1916-
LMTV Supporter
Interview to international volunteers 
Sophi (23) Danish volunteer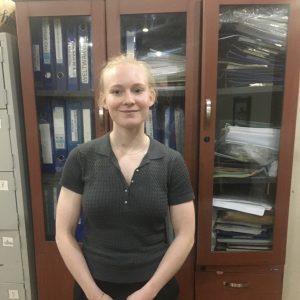 —Why did you decide to choose this program and come to Vietnam?
Actually it's my second time to come to Vietnam. This program is for helping disadvantaged people. I have been interested in minorities, discriminated or disadvantaged people. After I chose this program, I became more and more interested in Fisher Village.
—Did you have any impressions toward Vietnam before coming here?
I heard Vietnamese are friendly, and Vietnamese foods are delicious.
—Have you changed those impressions through volunteering?
I could confirm my impressions, Vietnamese are really friendly and foods are so delicious.  In addition, I also found Vietnam had quite interesting history, such as Vietnam war. Because I didn't know so much about history, it's unexpectedly precious for me.
—After coming back to Denmark, do you have any plan to help people?
Yes. I really want to help disadvantaged people. I'm a volunteer of Danish association, so I want to join some programs for helping people or youngsters in some developing countries.
Xuyang (19) Chinese volunteer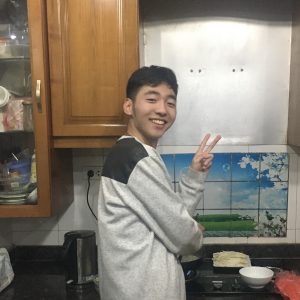 —How did you feel about Vietnam before coming here?
Vietnam is a country in Southeast Asia and I couldn't stop thinking this country was poorer than my country, China. That's it. However, my mother usually tells me to pay attention to the history between China and Vietnam. I'm not sure why she usually does, but maybe because China had a lot of wars to Vietnam before. So I'm interested in the country, Vietnam.
—What do you think about this program after volunteering?
Although I think this program is useful and good for local people, to be honest I feel it's not enough. I suppose we can do more for disadvantaged people because I found the life of people in Fisher Village was still terrible!  I want to do something more effective than this program next time and I know SJ Vietnam has some programs I want to join.
Hong (21) Korean volunteer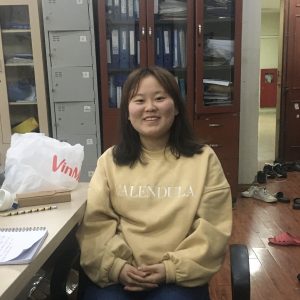 —Why did you decide to come to Vietnam and join this program?
I didn't have confidence in my communication skill, especially in English, so I have really wanted to make international friends, who I think can make me more talkative. In addition, I have been interested in exchanging different cultures so this volunteer program was so attractive for me. To be honest, however, I was very nervous and stressed when I arrived at Noi Bai Airport…
–After coming Vietnam and doing your work, what kind of emotion do you have?
I'm surprised at this country because I saw so many youngers were here, working hard, selling and buying something and enjoying their lives. It's so energetic. I could have many precious experiences through this program, so I'm very satisfied, like just after eating a lot of delicious foods. Moreover, I could remove stress I had before coming here.
I really appreciate your cooperation!!
Interview to members of Hanoi Volunteer Net
On this program, we could get warm support from Hanoi Volunteer Net, a volunteer community which consists many Japanese women staying in Hanoi. They often do volunteer activities in Hanoi. I did interviews to some of them with thanks.
—First of all, why did you decide to join the volunteer community?
Since I learned international cooperation in my university when I was a student I have been interested in international volunteering. I could get opportunity to come to Vietnam fortunately, so I wanted to do something related to volunteering and finally I joined this community.
Because I have really wanted to interact with Vietnamese children, I decided to join this community.
—How did you think about this program?
I just came to Hanoi last August  so I really want to experience something related to Vietnamese culture. Fortunately, I could have an opportunity to get related to Vietnamese new year tradition this time. In Japan, we can seldom see process of making something, such as products or foods, even if it's traditional, that's why this program was very good opportunity for me to reconsider our daily lives.
I feel it's nothing special but very good for local people that a lot of people come from different countries and make Banh Chung. I have wanted to make Banh Chung since I came to Hanoi but I couldn't until now, so I was very pleased to make with volunteers of SJ Vietnam. I know there are many people around me who know Banh Chung itself but have never made it. After all I feel this program is quite precious.
—What is your impression toward current condition related to disadvantaged people in Vietnam?
Through seeing the situation in Fisher Village with my own eyes, I consider seriously again about necessity of help. Even though I'm a little relieved to see smiles of children, I think it's definitely necessary for them to give a lot of aid, such as education or financial support. Thank you for giving me such a precious opportunity.
I'm so surprised because children in Phuc Tue centre have unlimited smiles, and I am really energized by the smiles at the same time.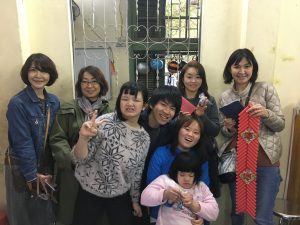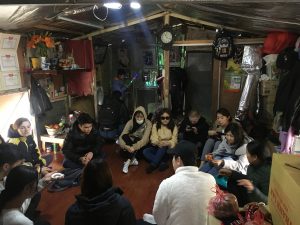 In conclusion
I saw not only international volunteers in this program but also people from another community gave their helping hands to Phuc Tue centre and Fisher Village. Finally we could have unexpectedly many participants in Fisher Village on the last day of work.
I strongly believe international cooperation should be bigger and it can be, like this program. We cannot give up making local people happier and the world better with volunteering!
Written by Takanori (long-term volunteer from Japan)