Vocabulary about food
Meal 

Bữa ăn

Pork  

Thịt lợn

Egg 

T

r

ứng

Carrot

Cà rốt

Rice 

Cơm

Shrimp 

Tôm

Tofu 

Đậu phụ

Cabbage

Bắp cải

Noodle 

Phở

Crab 

Cua

Fruit 

Hoa quả

Bacon

Thịt lợn xông khói 

Rice porridge 

Cháo

Fish 

Cá

Vegetable

Rau

Hamburger

Bánh mì kẹp thịt 

Bread 

Bánh mì  

Eel

Lươn

Bean

Đậu

Hot dog

Bánh mì kẹp xúc xích

Sticky rice 

Xôi

Raw

Sống

Mushroom

Nấm

Steak

Bò bít tết

Beef 

Bò

Rare

Tái

Corn

Ngô

Sausage

Xúc xích

Chicken 

Gà

Medium 

Chín vừa

Tomato

Cà chua

Ham

Giăm bông

Duck 

Vịt

Well-done

Chín kỹ

Potato

Khoai tây
Vocabulary about drinks
| | | | | | |
| --- | --- | --- | --- | --- | --- |
| Water | Nước | Wine | Rượu | Yogurt | Sữa chua |
| Coffee | Cà phê | Smoothie | Sinh tố | Sweep soup | Chè |
| Milk | Sữa | Juice | Nước ép | Tea | Trà |
Vocabulary about condiments
| | | | | | |
| --- | --- | --- | --- | --- | --- |
| Pepper | Hạt tiêu | Oil | Dầu | Honey | Mật ong |
| Garlic | Tỏi | Vinegar | Giấm | Mustard | Mù tạt |
| Onions | Hành | Salt | Muối | | |
How to order something
We use the word : cho to order something.
Ex: – One lemon juice and one hot coffee please!
Cho em xin một cốc nước chanh và một cà phê nóng ạ .
Adjectives
Delicious

 

Ngon

Sweet

Ngọt

Bitter

Đắng

Sweet smelling

Thơm

Sour

Chua

Salty

Mặn
 We use the structure: Thế nào to ask someone to describe something.
Ex: How is the noodle ? – It is delicious.
     Phở thế nào ? – Nó rất ngon 
We use the structure: Có + Adjective + không ? . This question is used to asked about characteristics of objectives.
Ex: Is the coffee bitter? – Yes, it is very bitter .
      Cà phê có đắng không?- Có, Cà phê rất đắng. 
Vietnamese daily food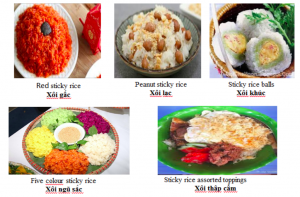 Xôi gấc: Sticky rice with Spiny Bitter Gourd
Xôi lạc: Sticky rice with peanut 
Xôi khúc: Sticky rice with bean and pork inside
Xôi ngũ sắc: Five colour sticky rice: Green ( from pineapple leaves), White ( Rice), Yellow( from turmeric), Purple ( Magenta plant), Red ( from Spiny Bitter Gourd)
Xôi thập cẩm: Sticky rice with sausage, cucumber, pork and salted shredded meat, etc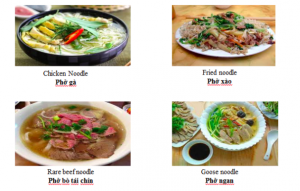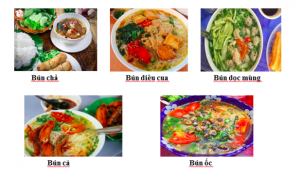 Bún chả: Vermicelli and grilled chopped meat
Bún diêu cua: Vermicelli and sour crab soup
Bún dọc mùng: Noodle with meat balls and Colocasia gigantea
Bún cá: Noodle with fish
Bún ốc: Vermicelli and shellfish soup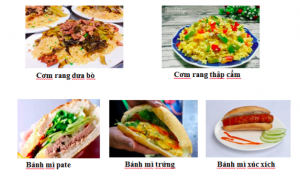 Cơm rang dưa bò: Fried rice with beef and pickles vegetables
Cơm rang thập cẩm: Fried rice with bean, carrot, corn, sausage, etc.
Bánh mì Pate: Vietnamese bread with Pate( meat and liver ) 
Bánh mì trứng: Vietnamese bread with fried eggs
Bánh mì xúc xích: Vietnamese bread with sausages.
Các loại bánh

( Some Vietnamese cakes )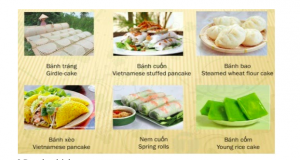 Bánh tráng: Rice paper
Bánh cuốn: Vietnamese stuffed pancake ( maybe with pork and mushroom inside)
Bánh bao: Dumpling/ Steamed wheat flour cake
Bánh xèo: Vietnamese pancake ( with shrimp, sprouts, fresh vegetables, etc)
Nem cuốn: Fresh spring rolls 
Bánh cốm: Young rice cake ( from green rice flakes)
Vietnamese popular drinks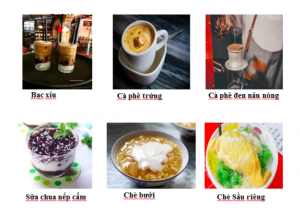 Coffee: Cà phê bạc xỉu 
             Cà phê trứng 
             Cà phê đen nâu nóng 
Sữa chua nếp cẩm: Yogurt with purple sticky rice 
Chè bưởi: Sweep soup with grapefruit peel, coconut milk, etc
Chè sầu riêng: Sweep soup with jelly, green bean, taro, etc
Do you like shopping? Click here to learn some vocabulary about it.