Posted by:

LMTV Supporter
Post Date:

04/03/2020
---
Life in Vinh, part two
LMTV Supporter
Hazwan and Syakir are two SJ Vietnam's volunteers currently working in Vinh. They will teach English to students in Vinh university when it will reopen. This is their third week in Vietnam, and the second part of their report. To see the first part click here. They spent some days in Ho Chi Minh.
Report by Hazwan (Volunteer from Brunei Darussalam)
Article by Antoine (LMTV from Belgium)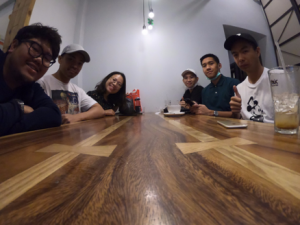 They started the week with a meeting with their coordinator to discuss some plans on how to teach and handle the students. They also had their first bánh mì chả cá, bread with meat and vegetables.
Hazwan:  It was our first bánh mì in Vietnam and it was fresh with the vegetables and the fish taste in the chả cá is very pronounce and I enjoyed it a lot. We planned to go to some interesting places to do that day in Ho Chi Minh. We went to Hồ Chí Minh City Museum of Fine Arts.  It consists of 16 showroom which displays paintings, pottery, sculpture and even some weapon. Through the arts, we managed to get an idea, learned and understand some of the history.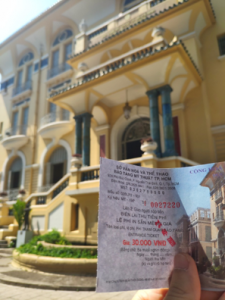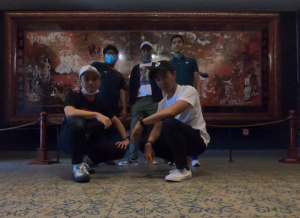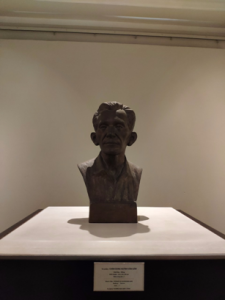 After their lunch they went to a mosque to pray. Hazwan tell us a little bit about his religion.
Hazwan: We, as a muslim have to pray five times daily to worship our God, Allah. We pray on a prayer mat and the direction is towards the west or towards the Holy Ka'abah in Mecca, Saudi Arabia. Daily prayers take place around 4:20AM (Subuh), 12:30PM (Zohor), 3:30PM (Asar), 6:25PM (Maghrib), 7:30PM (Isyak) and Friday prayer (Jumu'ah) which we perform every Friday at 12:30PM. However, it varies depending on the geographical location and time of the month as our prayer time depends on the positions of the sun. For example, the Maghrib prayer, in another country the sunset maybe around 5:00PM so there must perform the prayer at 5:00PM. We were so excited to see a mosque in almost a month as there is no mosque near Nghe An, Vinh. Before performing the prayer, we must perform "wudhu" which we clean ourself with water. During the prayer, there is a leader called "Imam" which leads us during the prayer when we pray in a group. We finished our prayer there and met some people from other countries praying with us. When we met a muslim person we always say "Assalamualaikum" which means "peace be upon you" and the person receiving that should say "Waalaikumsalam" which means "peace be upon you too". It is kind of a prayer for the person you meet.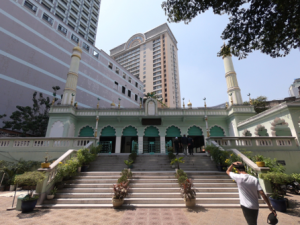 In the afternoon they went to the War remnants museum. Lots of people around the world come to visit it. The entry fee is 40,000VND per person. There are helicopters, tanks and boats displayed outside. The museum includes storage, preservation and display of the material, photographs, artifacts on the evidence of the crime and the consequences of the war (Vietnam war) that the invasion force caused to Vietnam.
Hazwan : The one that caught my attention the most is the agent orange. For anyone exposed to it will have serious health issues such as cancer, birth defects, rashes and severe psychological and neurological problems.
Then they took a water bus taxi for 30 minutes and went to Saigon River Tunnel. It stretches for 1.49 Kilometers from one end to another. It is 33 meters wide and 9 meters high with six lanes. The road then leads to the Saigon Riverside. A place where people hang out, eat and drink with groups of friends. With the help of Ms Vy, they managed to order drinks which they believed to be a pineapple juice. But when it arrived, it was obviously not a pineapple juice. It is 15,000VND per drink. It was not what they expected but the drink was delicious.
Hazwan: We are until now still clueless about the kind of juice we ordered. We had a peaceful time there with the calm atmosphere.

 
Tuesday 25th February
Hazwan: We book a grab taxi to go to the domestic airport. When we get down from the hotel, there is a grab driver which he offered us a ride to the airport because he said that he waited there for about 20 minutes because someone canceled his booking. Me and Syakir rode the grab and he brought us to the bus station. We were confused and the driver said that his working hours was up and hence they need to change the driver. The driver changed and started to ask us 200,000VND (100,000VND per person). At this point, we realized that this is a scam as we were initially promised a total of 100,000VND ride to the airport. We refused to pay and got out of the fake grab taxi and booked another grab to get to the airport. This time it was a legit grab taxi. We were scared that we might miss our flight.
In Vietnam you have an application called Grab, similar to Uber. You have to pay attention and always take the grab you ordered, not another one. These can be fake grab and ask you too much money.
They arrived at the airport and went back to Vinh City, at their dorm.
Wednesday 26th February
This day was their rest day. The stayed at the dorm to work on the report you are reading right now, and rest after their trip to Ho Chi Minh.
Thursday 27th February
They had their online Vietnamese lesson with Ms Linh, Bich and Van An. And the return of the singing sessions. They also practiced their pronunciation.
Hazwan:After almost a week, we went to outside to do some football and walked around the university to exercise.
In the evening they reviewed their Vietnamese vocabulary.
Friday 28th February
Hazwan: I really like rice crackers here in Vietnam as they have lots of varieties of it compare to Brunei. The rice crackers are fairly cheap and you can find it mostly in any supermarkets. It is crispy and light. I would definitely bring some for my family in Brunei.
After their breakfast they swept the floor, wipe the table and clean the toilet and then went to cut their hair.
Hazwan: The saloon was warm and the hair dresser was very nice even though we couldn't communicate properly due to the language barrier. Each of us took about 15-30 minutes and a cost of 50,000VND per haircut. We felt great and would surely visit the shop again to cut our hair.
They came back to the dorm to prepare for next week. They will begin to teach English, so they prepared some games and asked for the students' textbooks.
Saturday 29th February
Hazwan: Had an online Vietnamese lesson with Ms Linh and Bich. We also met Phuong and tried to make sentences. I think it helped us a lot. We can use it in our daily conversations as we always go to a convenient store to interact with locals and try practice Vietnamese with them. Now we can try to rely less on google translate to help us. Like always, we had a singing session and we trade songs with them. We learned a new romantic song called Hơn Cả Yêu to practice our pronunciation. I really like the melody of the song and hopefully I can memorize the song and pronounce it correctly one day. We also taught them how to sing some malay songs which are Suatu Hari di Hari Raya, Power Cat and Adabi. Actually, Power Cat and Adabi is a song from a famous advertisement in Malaysia. We had an enjoyable time and certainly educational.
In the afternoon they played some sports. Vietnamese love sports too, they mostly play volleyball and have a lot of courts in universities. They continued to prepare their first teaching week and they were beginning to feel the stress.
Hazwan: I had a mixed feeling for next Monday as we were waiting for this for almost a month now and we don't know what to expect, how the student would behave and many more. Lots of thoughts are running in my mind and to be honest, I am not sure whether I am excited, nervous or relieve.
Sunday 1st March
They now have a routine in the morning. Breakfast and repeatig all sentences they learned in Vietnamese. They also cooked some Bruneai pancakes called tumpi. It consists of egg, wheat flour, water, salt and sugar. Mix it all together and cook it like a normal pancake.
They finished their report and listed the games they would use during the week. If you want to read what they do in their lessons, they tell us about their volunteering here.