Posted by:

LMTV Supporter
Post Date:

26/02/2020
---
Life in Vinh, Vietnam
LMTV Supporter
Due to CO-VID19, kindergartens, schools and universities are temporary closed. So did the university where Muhammad Abdul Syakir Bin Haji Basri and Mohamad Hazwan Syafiq bin Jamaluddin stay. They both come from Brunéi Darussalam.
They are in Vietnam to teach English at Vinh University but students went home because of the virus.
So they are living in the city, taking Vietnamese lessons and sightseeing. They will tell us how is life in Vinh and what their week looks like.
Report by Hazwan and Syakir (Volunteers from Brunéi Darussalam)
Written by Antoine (LMTV)
Monday 10th February
Syakir : Despite the university being shut down, our Vietnamese lessons are still going on. Students from the university, Tom and Cuong, met us at the library at 9am. In addition, we also had our Vietnamese lesson later in the afternoon, after lunch time, online with the SJ Vietnam's coordinator, Linh.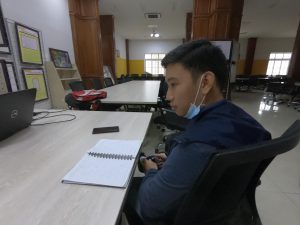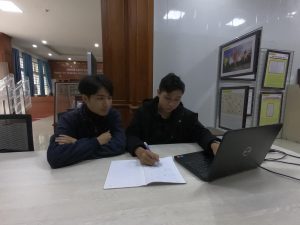 Both guys found Vietnamese really difficult at the beginning. But the lessons are very helpful and then after a few days they started to become familiar with the words.  The accents are very difficult because words can have different meanings depending on the accent. They learned some Vietnamese fruits and food, which is one of the main pillars in Vietnamese culture. They also sang at the end of their lesson in the afternoon.
Hazwan : After we finished the lessons, we headed to the university's gymnasium to play badminton with Mr Hai and his friends at 5:00pm. The hall was full of people and the atmosphere was very lively. There were even a basketball practice taking place in the same hall. It was perilous and exciting.

Syakir : On our way to the gymnasium, there were many people selling vegetables, fruits, flowers and small shops at the roadside. It was nice to see this kind of environment because it does not make the road looks dull, quiet and empty during the day.

After that we went in a café to eat our dinner. For our dinner, we had spicy seafood noodles as well as sweet and salted fried french fries, and of course, we also had the Vietnamese coffee, Ca Phe Phin and the coconut iced coffee.
Tuesday 11th February
That day was sightseeing day. First, they had a presentation about Vietnam with Linh, their coordinator at SJ Vietnam. She told them about the country, the culture, the religion and the customs. In the afternoon they went shopping and had a look on the city. Shops, cafés, streets.
Syakir: Later in the afternoon, we went sightseeing around Vinh to explore and get familiar with some of the places here. It was a nice warm day for exploration.

While we were walking, we saw this large building called Golden City, it looked beautiful and fancy. Maybe, it is one of the beautiful buildings around that area with a coffee shop inside the building. We stopped for a short break at the coffee shop and had a cup of coffee. Again, the coffee tasted amazing.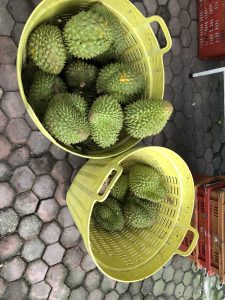 At a time they could smell the durian's particular scent. Ten meters away you can smell it. It's one of Syakir's favorite fruits. At the end of the afternoon they returned at the dorm to follow a new Vietnamese lesson. This time it was online with new volunteers. They met Bich and Fuko from SJ Vietnam. The lesson was about fruits and food., and daily life conversations. They sang songs again.
Syakir: I felt a bit shy to sing because I am not good in singing, but I still gave it a try and sang the two songs. The songs were quite easy and not too fast and hard to pronounce.
Wednesday 12th February
Calm day, they didn't do much except their laundry and their meals.
Syakir : I also did some research regarding the attractive places in Vinh for us to explore soon. I found out that Vinh is the biggest city in Vietnam and economic and cultural center of central Vietnam and some of the place of attractions are the Ho Chi Minh Square, Quang Trung King Temple, Pu Mat National Park, Museums and Cua Lo Beach. I realized that Vinh does not have many shopping malls, but this place is famous for their historical places.
In the evening they learnt a new song with Bich during their lesson : Cháu yêu bà. And the feelings are quite different :
Hazwan : It was embarrassing at first because of our awful voices and vocals. Nevertheless, it is lively and we learnt how to correctly pronounce some words correctly.

Syakir : I think that we improved a little even though we can not sing very well.
Thursday, 13rd February
Another day, another lesson for the guys. The had an online lesson with Fuko, a volunteer from Japan, and Linh the coordinator. They asked questions about Fuko and her country to know more about her.
They learnt new words, and of course a new song!
Hazwan : In the evening we took  a walk around our university and bought some groceries at the convenient stores.

Syakir : Before heading back to dorm, we took a walk around the university at night and had the chance to watch some people playing football, da cau, volleyball and tennis next to the gymnasium building of this university.
Friday, 14th February
On Friday they had their second lesson with students from their university. Tom and Cuong taught them vowels, as well as short words that can be used to construct a sentence.
Syakir : In the afternoon, we had a video call with Bich and Van Anh to continue some of the previous Vietnamese lessons. Apart from that, we also taught them Malay language, for instance, how to introduce ourselves to other people. It was a pleasure to teach our language to them even if it was only a little. Bich was excited and happy to learn the Malay language.
Saturday, 15th February
Syakir : The weekend arrived, we spent the day sightseeing around Vinh again but that time, we were at the Nguyen Van Cu street. I was impressed with the streets and the shops nearby because it looks beautiful especially during sunset. At this street, we saw a lot of nice shops and we stopped by at some of them. In addition, we also saw few barber shops for men, and it made me think that I should try cutting my hair at that barber shop next time. While walking at the streets, we also saw a man offering a haircut service under the tree which is unusual to me because I have never seen something like that before as well as in my country. I find it interesting and unique because he makes use of the tree as part of his working area to earn money.

Hazwan : We tried a boba drink at a café. Although we had problems whilst ordering, we managed to get our orders with the help of google translate and some of the knowledge from the Vietnamese lessons.
At the end of the day they saw the Quang Trung Ho Chi Minh statue which is one of the places of attractions in Vinh. In the park next to it they saw a lot of different activities such as jogging, da cau, flying kites. Parks in Vietnam are very lively. After a beautiful sunset they came back at their dorm.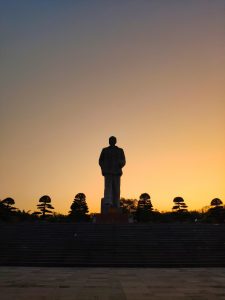 Da cau is a very popular game in Vietnam.
Sunday, 16th February
The last day of the week is generally quiet. They had an online meeting with their coordinators to plan their next weeks. Because of the virus, the university will be closed the next week too.
Hazwan : At 3:30pm we went to Nguyễn Thị Minh Khai street to buy clothes and moreover, enjoying the busy streets and accompanied by the cold gentle breeze which we rarely experienced in our home country.