Posted by:

LMTV Supporter
Post Date:

08/02/2020
---
How is Tet?
LMTV Supporter
Chúc mừng năm mới!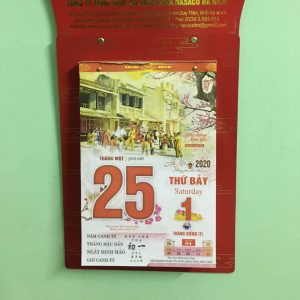 This Vietnamese means "Happy New Year!" in Vietnamese. Why now? January 25th is new years day of this year in Vietnam! I explored traditional and amazing new year in Vietnam fortunately because I was in Hanoi to join long-term volunteer in SJ Vietnam last December and January. On this post, let me introduce Vietnamese traditional new year (Tet).
What is Tet?
Tết or Vietnamese New Year, is the most important celebration in Vietnamese culture. The word is a shortened form of Tết Nguyên Đán, which is Sino-Vietnamese for "Feast of the First Morning of the First Day". Tết celebrates the arrival of spring based on the Vietnamese variation of the Chinese lunar solar calendar, which usually has the date falling between the months of January or February
It takes place from the first day of the first month of the Vietnamese calendar (around late January or early February) until at least the third day. Many Vietnamese prepare for Tết by cooking special holiday foods and cleaning the house.
These foods include Chung cake (bánh chưng), bánh dày, dried young bamboo soup (canh măng), giò and sticky rice. There are a lot of customs practiced during Tết, such as visiting a person's house on the first day of the new year (xông nhà), ancestral worshipping, wishing New Year's greetings, giving lucky money to children and elderly people, and opening a shop.
Tết is also an occasion for pilgrims and family reunions. During Tết, Vietnamese visit their relatives and temples, forgetting about the troubles of the past year and hoping for a better upcoming year. They consider Tết to be the first day of spring and the festival is often called Hội xuân (spring festival).
Our workcamp for Tet
We had a workcamp related to Tet from January 12th to 20th (SJV1916 Traditional New Year for poor children and families). If you want to know more about the workcamp, please move to this post.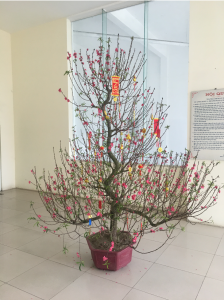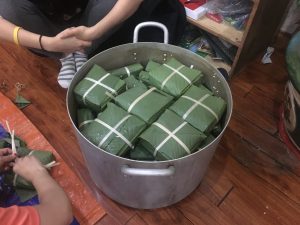 Tet holiday of our volunteers
We had 2 long-term volunteers and 1 coordinator from another organization at our office during Tet. Finally, all of us could manage to find places to stay thanks to very friendly Vietnamese, they invited each of us to their houses. One from Belgium visited Thai Binh, one from Italy went to Hoi An and I stayed in Ninh Binh.
I saw a lot of scenes Vietnamese were preparing something for Tet at the city center of Hanoi since around early January. Numerous decorations were on sale on one of streets at the old quarter and I saw a café decorated gorgeously with that kind of ornaments (pictures below).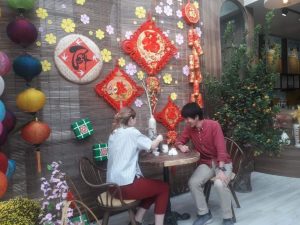 My Tet holiday
Why I decided to write this article is that no matter what, I want to tell you quite interesting culture of new year and unlimited kindness from local people which I saw during Tet holiday.
I visited my friend's family for a few days around New Year's Day (Jan. 25th). They welcomed me warmly with amazing meals. Let me introduce some of them here.
Banh Chung
Traditional rice cake for Tet. I made some in his house because his mother arranged ingredients and making tools for me. Cut and fold leaves with a special wooden tool, put sticky rice into boxes of the leaves and tie them with some vines.
Gio bo
Because Vietnamese are very busy to invite their families, relatives, neighbors and acquaintances to their house and have meals together during Tet holiday, this sausage made from beef is useful to save time.
Ruou thuoc
This traditional liquor is made from a lot of ingredients. Vietnamese usually make it by themselves in their houses. I felt it tasted like Japanese sake, it was sweet but different tastes were also included. I found an interesting custom at that time! One of them drank this wine with another and then shook hands with each other. My friend said this custom was common just in the district around his house. It can make relationship between them stronger, I suppose…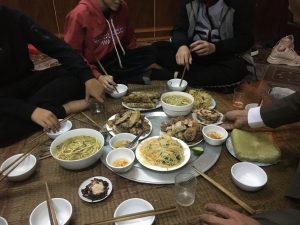 Actually not only my friend but also his neighbor invited me warmly to their house and had dinner together, so finally I didn't need to stay in a hotel to go sightseeing in Ninh Binh, such as Trang An.
I was very surprised at kindness from everyone I met in Ninh Binh. Even though many of them couldn't have conversation with me because I cannot speak Vietnamese, they fully trusted me and tried to communicate with me with gestures. This experience remains being one of the best memories in my life.
Lastly,
As above, volunteering in Vietnam during Tet can give you precious experience. If you want to know different traditional new year from yours, please come to Vietnam!!!
Written by Takanori (long-term volunteer from Japan)