Posted by:

Linh
Post Date:

02/04/2020
---
Chapter 7 : TRẦN DYNASTY
Linh
The Trần Dynasty left their marks in the history by defeating the "desert" Mongol empire three times in 1258, 1285 and 1288. In their first expedition to Vietnam in 1258, the Mongols were defeated within half a month. More than two decades later, upon completing his conquer over China, Kublai Khan launched a new invasion to the South. In such situations, in January 1284, Father King Trần Thánh Tông convened elders throughout the kingdom to discuss the surrender-fight decision.
In Diên Hồng Palace, grey-haired elders shouted in chorus: "Fight!" The Diên Hồng Conference was named the first democratic meeting in Vietnam's history. The elderly people presented the whole nation's high spirit and iron-will of not letting the country trampled under Mongol hooves.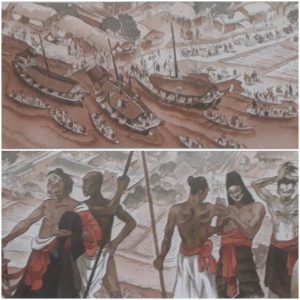 In early 1285, Kublai Khan's son, Toghan, commanded a 500,000-strong corps to attack the Great Việt. However, occupying Thăng Long for only four months, the invaders were expelled. In late 1287, Kublai Khan launched the third expedition and suffered another defeat in the Bạch Đằng River in April 1288. The country is eternally proud of the names who made the history in three anti-Mongol resistance wars: Duke Generalissimo Trần Hưng Đạo (?-1300), young general Trần Bình Trọng (1259-1285) with the famous quotation: "I would rather be a ghost in Vietnam than become a king in China…"
Each and every fighter in the resistance wars tattooed two words "Sát Thát" (Killing Tartars) on their arms to show their hatred for the invaders and their determination to defeat them. The imperial capital of Thăng Long experienced various fluctuations during those days. Sometimes, the citadel and its streets were empty and in ruins; then it was in the jubilant ambiance of welcoming the victorious army.
When the country recovered its peace after bloody battles, the Trần Kings continued to place importance on developing production. Emerging as a family living near rivers, the Trần Dynasty adopted an open policy on external trade. The imperial capital of Thăng Long was consolidated and expanded to become a hub of commerce. Quays along the Tô Lịch River were crowed with merchant ships from China, India and others. The class of town-dwellers started to make their appearance, with their own lifestyle quite different from peasants in traditional villages.
As under the Lý Dynasty, the Trần Kings considered Buddhism as state religion. Emperor Trần Nhân Tông (1258-1308) was also the founder of the Trúc Lâm (Bamboo Forest) Zen sect. Confucian regime entered its order and  discipline. Confucianism-based royal competitions were regularly organized by the Court. The policy of harmonizing three key religions (Buddhism, Confucianism and Taoism) helped to create a golden age for Vietnamese culture in which indigenous values were combined with cultural characteristics from the North (China) and the South (Champa).
Villages and hamlets were special cultural spaces of which a typical landscape was characterized by banyan trees, river wharfs, ponds and rice fields. Each and every village had its own Buddhist pagoda and shrines dedicated to gods and legendary figures while communal houses not yet appeared. Villages were relatively independent and self-reliant administrative unit but were not completely separated from the outer world.
On spring day, villages opened their festivals in honor of Saints and the Buddha, many folk games were played. Since the Trần Dynasty on, some villages in Thái Bình Province opened clay-cracker competitions festival. A story told that in 1288, on the way to the Bạch Đằng Battlefield, Generalissimo Trần Quốc Tuấn's elephant was trapped in a slough of the Hóa River (present-day An Thái Commune, Quỳnh Phụ District, Thái Bình Province). Villagers and soldiers threw earth and stone into the slough to build a road for the elephant. Since then, in their spare time, local people usually repeated the earth throwing show and the game was created.
VIETNAM – A BRIEF HISTORY IN PICTURES
Compiled by: HIẾU MINH – HUYỀN TRANG (in Vietnamese language)
With an introduction of Historian DƯƠNG TRUNG QUỐC
Illustrated by TẠ HUY LONG
Translated by: NGUYỄN XUÂN HỒNG
P/s: Completed by the volunteers: Nguyễn Ngọc Bích – Second-year student of Foreign Trade University; Takanori Kano from Japan; Antoine Roels from Belgium; Linh – The coordinator of SJ Vietnam.