Posted by:

Linh
Post Date:

24/12/2019
---
3 in 1 party at SJ Vietnam office
Linh
We had a party at SJ Vietnam (SJV) office on the evening of Dec.17th,2019.
First of all, why did we have this party? We had 3 purposes. First purpose is to welcome new volunteers arrived at Hanoi in December. A girl is from Belgium, a girl from India, and a boy from Japan. Second one is to welcome Christmas and New Year. We couldn't wait for Christmas and New Year… Third one is to celebrate the victory of U-22 Vietnam soccer team!! Vietnam defeated Indonesia and won a championship of SEA Games on Dec.10th. This was a historic victory and everybody in Vietnam was really pleased with it.
In order to prepare for this party, we went shopping to a supermarket and a local market close to our office. We bought some vegetables (potatoes, onions, etc.) and some meat (beef and pork) and a lot of bread.
About 20 people gathered at our office. Participants included not only volunteers and coordinators of SJV, but also local volunteers, students and members of SJC -Active English Community.
This party was also for cultural exchange, so each of volunteers were supposed to make meals of their countries. Cloe, a volunteer from Belgium, cooked French fries and Croque Monsieur, like a sandwich with cheese and ham. Cheima, from France, made Rose des Sables, a chocolate snack and Takanori, from Japan, made Sukiyaki, a Japanese simmered food. Coordinators of SJV cooked as well. Linh and Nam cooked a lot of spring rolls and noodles, traditional Vietnamese foods, with Vietnamese volunteers and students. We also prepared some cookies, which were made by autistic children in a center (our new volunteer project site).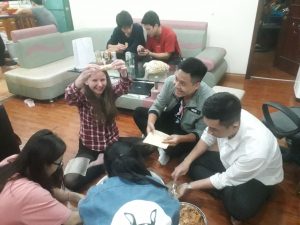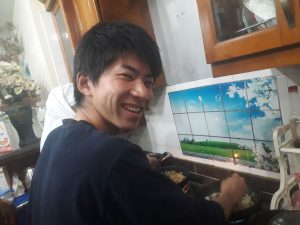 It took about 2h 30min to finish preparing for all dishes, so everybody there were really hungry then. With leading of Linh, we began the party. We sat on the floor making a circle around the foods from different countries and had them. The participants talked each other lively and enjoyed tastes from other countries.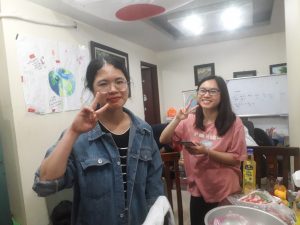 The party was a great opportunity for the participants to know each other and understand Vietnamese culture, which probably allows them to work or do something social in Vietnam more happily and effectively.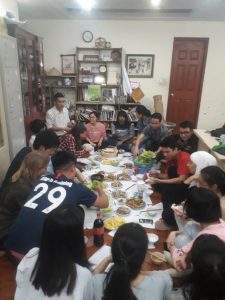 Written by Takanori Kano  – the volunteer from Japan