Solidarités Jeunesses Vietnam (SJ Vietnam) is an international youth NGO (Non-Governmental Organization) which aims at connecting international and Vietnamese volunteers to work with the most in-need communities. SJ Vietnam was set up in 2004 with the coordination of Mr. Piere de Hanscutter and Ms. Do Thi Phuc.
SJ Vietnam is a full member of CCIVS (Coordinating Committee for International Voluntary Service – UNESCO) and NVDA (Network for Voluntary Development in Asia). It is also a partner of YAP (Youth Action for Peace) and Alliance. International exchanges are managed exclusively within our network of Vietnamese and international partners. Up to now, SJ Vietnam has brought 6,000 volunteers worldwide and across the country to help the children and youngsters from low-income families access better education and proper treatment.
SJ Vietnam organises short-term and long-term voluntary projects. Its projects vary from environmental/ cultural protection and rural development to education, depending on the needs of the communities. The volunteers stay in a place to work, to improve the situation of the community and the society as well as to develop personal and professional competencies.
SJ Vietnam is an independent, non-political and non-religious organization open to everybody without any distinction of nationality, race, philosophy, financial resource, education or sex.
This website is fully functional in English. Even though parts of the website are also available in French and some others in Vietnamese to make things easier for local and international volunteers, please understand that any further information will be communicated in English. If you wish to contact us in the French language, please contact our independent branches in France or Belgium SVI.
Linh
Here is a transcript of our work at Mai Chau this year. We are proud of the work done and hope it continues for a long time.
Read more...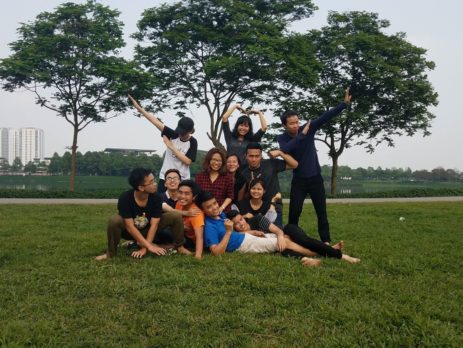 Linh
Fine, let's do it but only as an international volunteer! " When it comes to holidays, people usually prefer relaxing on the beach, breathing fresh air from the mountains or just having a quiet rest at home. Like everybody else, I was used to doing that. I offered myself a 'breaking free', for a year. I wanted it to be [...]
Read more...